Kia unveiled the all-electric 2024 EV9 SUV for the first time in North America at the 2023 New York International Auto Show. Targeted to go on sale in the U.S. in Q4 2023, and expected to be assembled in West Point, Georgia, starting in 2024.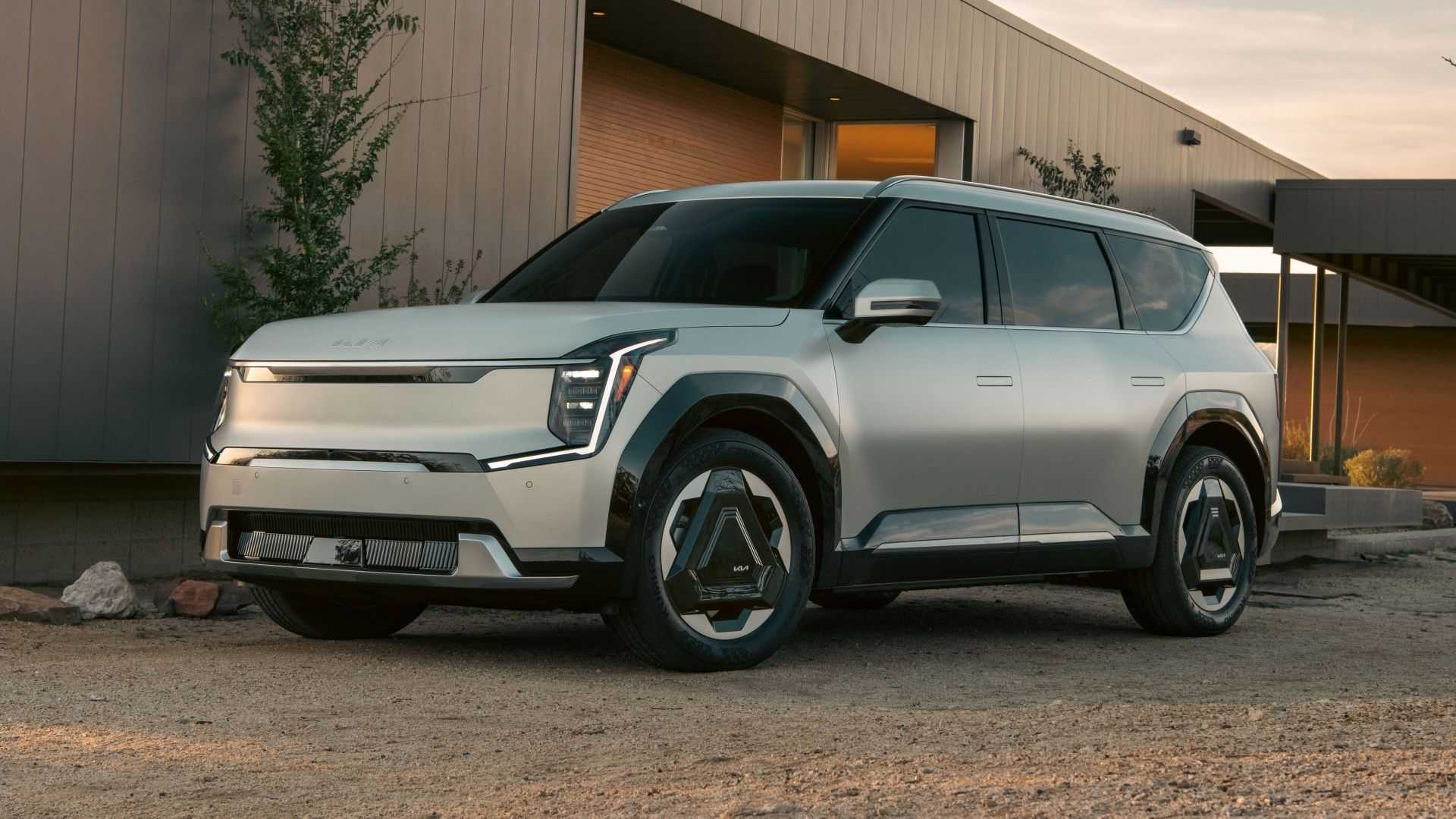 The US-spec Kia EV9 looks the same as the global model unveiled last month. Its specifications are the same, so why has Kia issued a fresh press release on this occasion? The main reason was to announce that the 2024 Kia EV9 is expected to be built in West Point, Georgia, beginning in 2024. This will make it the first Kia EV to be assembled in the US, allowing the EV9 to qualify for US federal tax credits – it remains to be seen whether it will be eligible for the full $7,500 incentive, though.
The Kia EV9 will offer two battery choices in the US. Standard is a 76.1-kilowatt-hour battery with a 160-kilowatt (215-horsepower) motor that drives the rear wheels. This configuration is called EV9 RWD Standard in other markets. Customers also have the option of a larger 99.8-kWh battery pack, offered with either single- or dual-motor configurations, called EV9 RWD Long Range or EV9 AWD, respectively. The former uses a 150-kW (201-hp) rear-mounted motor, while the latter consists of two motors (one on each axle) producing 283 kW (379 hp) and 516 pound-feet of torque.
The EV9 AWD features torque-vectoring all-wheel drive and targets a 0 to 60 mph time of 5 seconds. When it comes to range, Kia targets a rating of 300 miles for the EV9 RWD Long Range model. No estimates for the other variants were announced, but the AWD model will most likely offer a sub-300-mile range.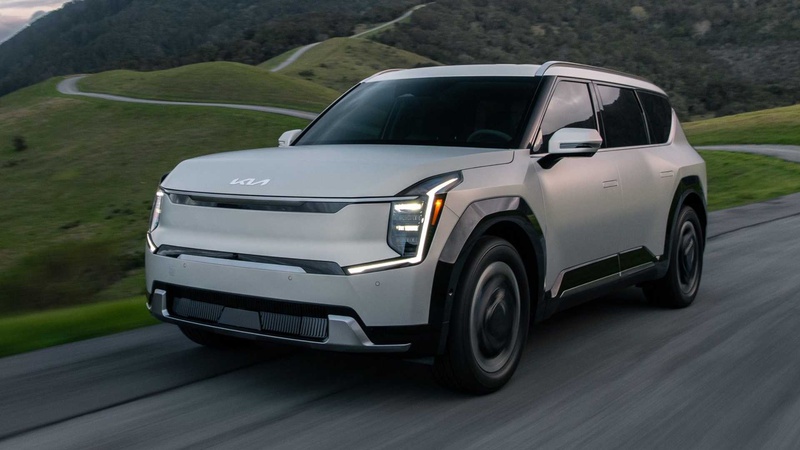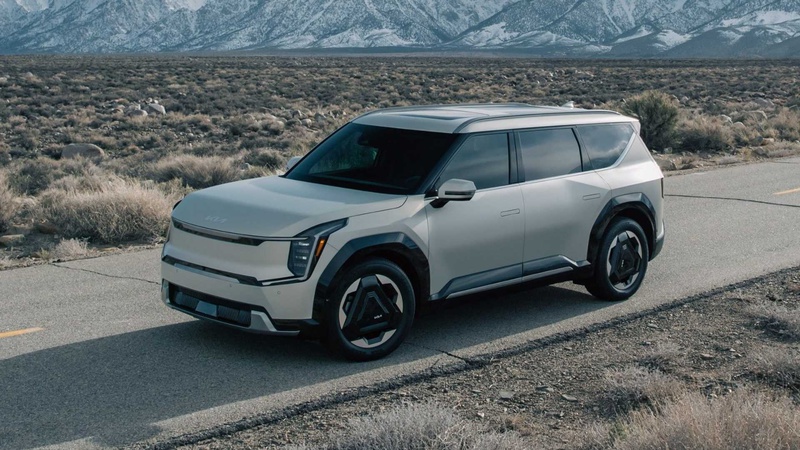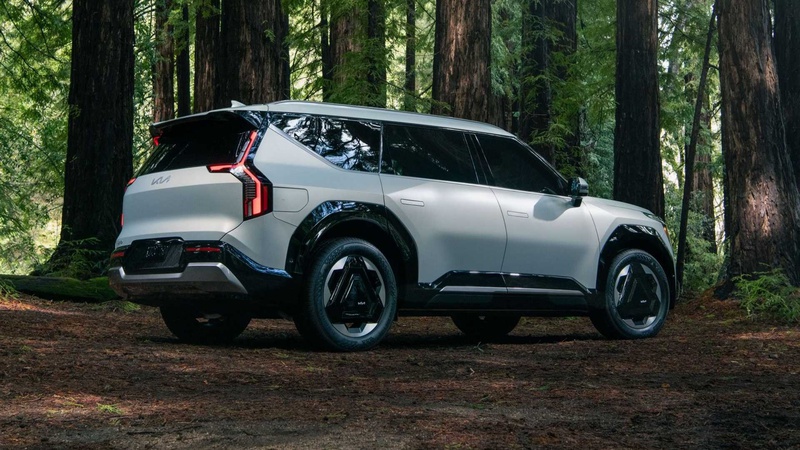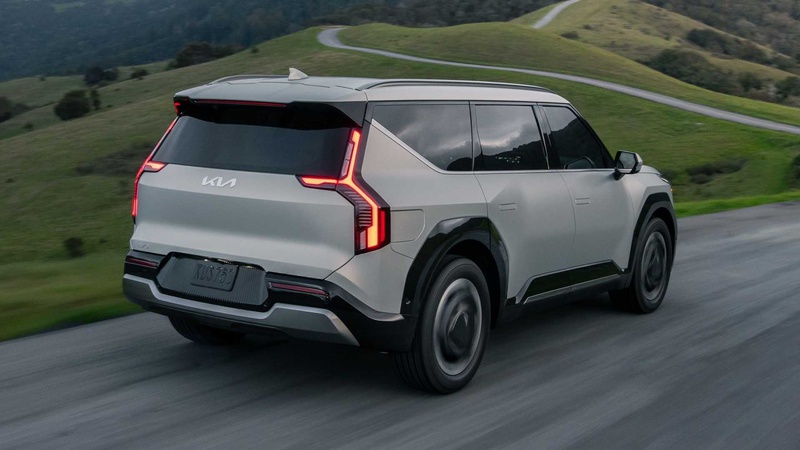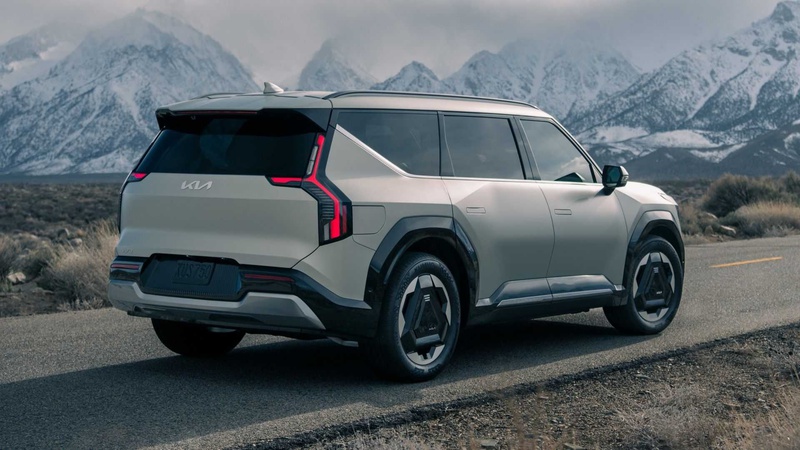 2024 Kia EV9 (US spec)
Thanks to the EV9's 800-volt electrical architecture enabled by the E-GMP platform, the 2024 Kia EV9 will offer a maximum DC fast charging speed of 230 kW, which translates into a charging time from 10 to 80 percent state of charge in under 25 minutes. The electric SUV will also offer an 11 kW onboard charger enabling Level 2 charging.
As for practicality, the EV9 will be available from launch in a variety of six- and seven-seat configurations. With all three rows raised, the EV9 can accommodate 20.2 cubic feet of cargo space, which increases to 81.9 cubic feet when both rows of rear seats are folded. The cargo area also features a V2L outlet than can help power tailgating parties, with the EV9 being designed to be a mobile power source, thanks to an Integrated Charging Control Unit (ICCU).
We also learn from the release that the Kia EV9 offers up to 5,000 pounds of towing capacity.
Unfortunately, we'll have to wait some more for Kia to release US pricing and EPA-rated range ratings of the 2024 EV9. The automaker will likely release that information ahead of the EV9's arrival in the United States, expected in Q4 2023. Given the estimated release date, the first batches of EV9s will likely be imported from South Korea until US production gets underway.
Source: Kia