With a driving range of over 450 miles and a 82,000 lbs load capacity, this truck is poised to transform the way goods are transported across America's highways.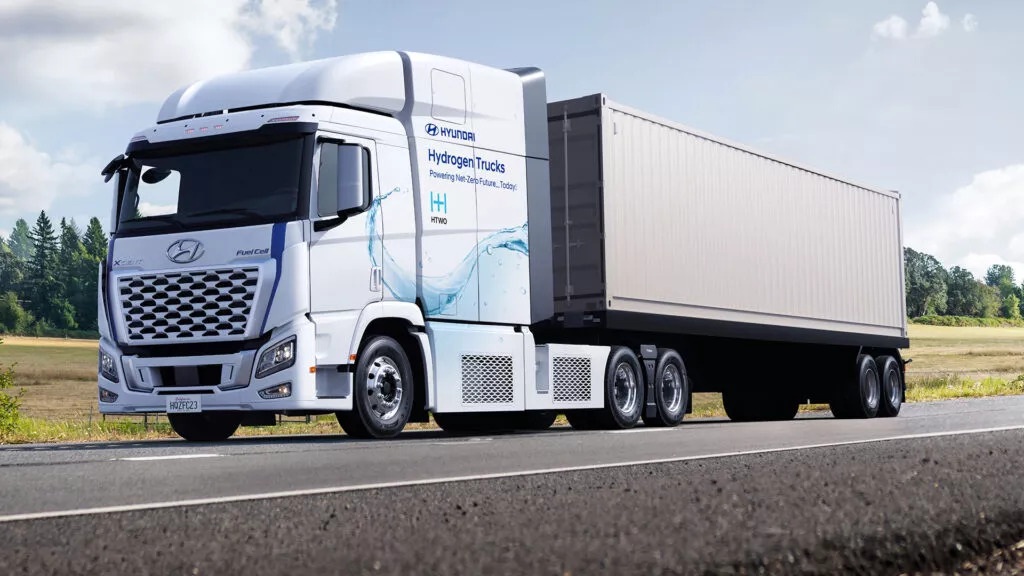 Hyundai is pushing to establish a robust hydrogen fuel chain in the United States, led by its Georgia EV plant, with the debut of its XCIENT fuel cell truck in the American market.
Hyundai is convinced that hydrogen fuel cell vehicles will play a vital role in the mobility industry, and recently showcased the commercialized version of its class 8 XCIENT fuel cell truck in the U.S. for the first time at an event in Anaheim, California.
Hyundai first launched the XCIENT fuel cell truck in 2020, introducing it in Switzerland, Germany, Israel, Korea, and New Zealand. Over the past three years, these fuel cell trucks have driven over a combined 4 million miles. The 6x4 variant of the XCIENT truck that was displayed in California features a pair of 90 kW hydrogen fuel cell systems and a 350 kW electric motor. With a maximum load of 82,000 pounds (~37,000 kg), the XCIENT has a driving range of over 450 miles (724 km).
The fuel cell system used in the XCIENT was developed by Hyundai's hydrogen energy business, HWTO. This business unit also manufactures Hyundai's proprietary fuel cell systems for air mobility, automobiles, vessels, and trains.
While Hyundai did not disclose when the XCIENT would hit the roads of the U.S., it noted that it intends to establish a robust hydrogen valve chain in the country, led by the Hyundai Motor Group Metaplant America facility in Georgia, which is already designated as the brand's only dedicated EV factory in the U.S. The plant is capable of producing up to 300,000 EVs annually, including the use of eco-friendly logistics systems and hydrogen fuel cell trucks.
According to Hyundai, "We firmly believe that hydrogen is one of the most powerful and pragmatic solutions for achieving our vision of 'Progress for Humanity' with emission-free mobility as a fundamental pillar for a sustainable society." This statement was made by Ken Ramirez, executive vice president, and head of Global Commercial Vehicle and Hydrogen Fuel Cell Business at Hyundai Motor. Ramirez further added that the company's hydrogen fuel cell technology has a proven track record of efficiency and durability, which has pioneered the industry.
Hyundai plans to leverage these merits to transform transportation with hydrogen energy for a broad range of mobility applications, including commercial vehicles, marine vessels, and even air mobility. The company aims to move beyond mobility towards an integrated hydrogen ecosystem, from hydrogen production to its storage, transport, and delivery. Hyundai is uniquely positioned to deliver a seamless solution across the value chain.
The introduction of the XCIENT fuel cell truck to the American market is a crucial step towards Hyundai's hydrogen vision. It marks the company's progress in bringing environmentally friendly and sustainable transportation to the U.S. Hyundai's focus on hydrogen energy highlights its commitment to reducing carbon emissions and providing eco-friendly transportation solutions.
Hyundai has been a pioneer in the development of hydrogen fuel cell technology, and its efforts have started to bear fruit. The XCIENT fuel cell truck has already proven its efficiency and durability in the markets where it has been introduced, clocking in over 4 million miles of real-world testing. With the XCIENT fuel cell truck's debut in the U.S., Hyundai aims to continue pushing towards a hydrogen-powered future in transportation.
Source: Hyundai