Get ready for a revolution as Aston Martin bids farewell to the iconic V12, introducing the exhilarating 2024 DB12. Experience unrivaled performance, cutting-edge technology, and breathtaking design.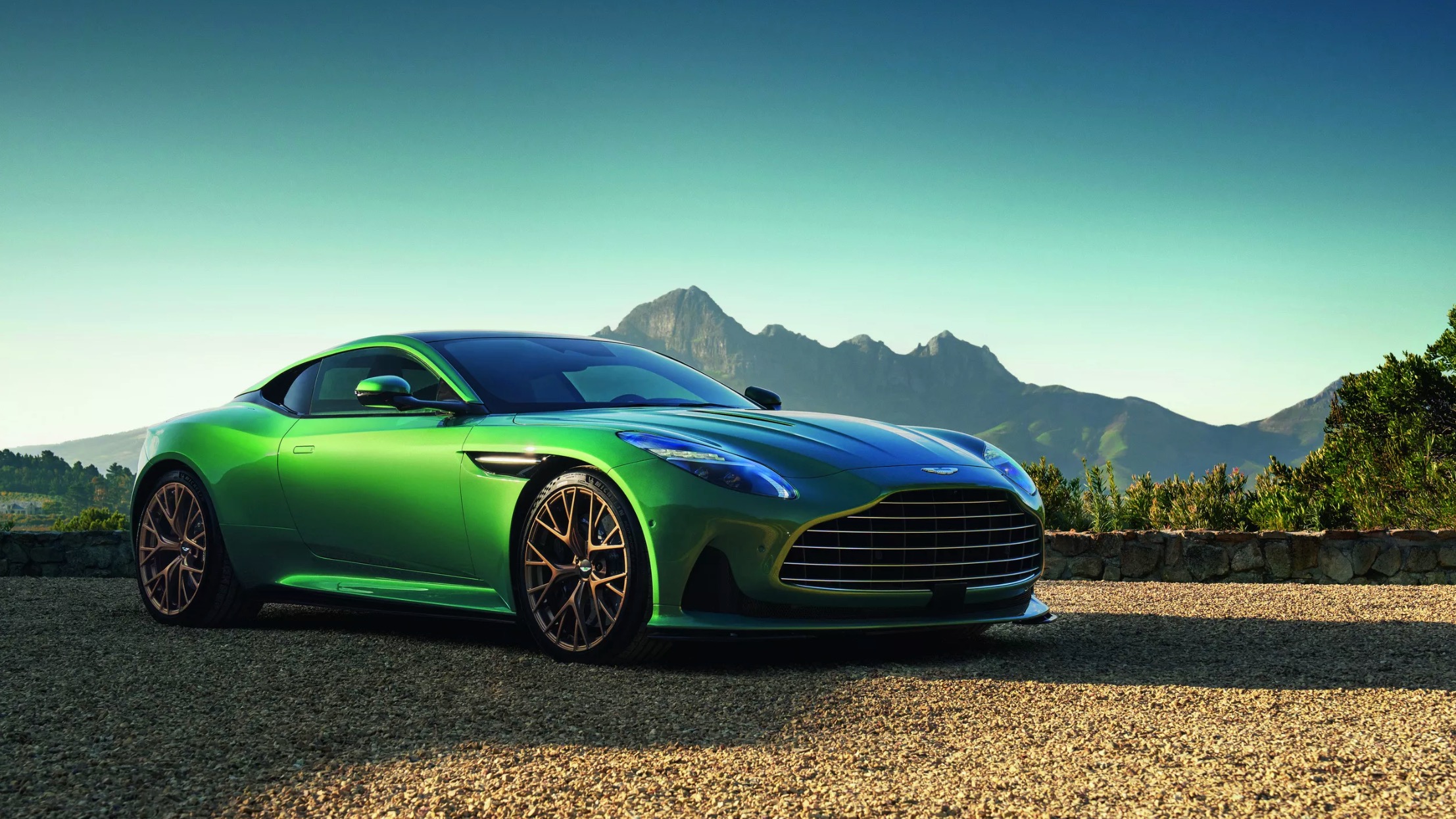 Aston Martin, renowned for its legacy of opulence and high-performance vehicles, is set to embark on a new chapter with the unveiling of the all-new DB12. Branded as the "world's first super tourer," this remarkable model signifies Aston Martin's 110th anniversary and promises a thrilling blend of luxury and power.
While the DB12 may share some resemblance with its predecessor, the DB11, it goes beyond a mere facelift. Step closer, and you'll notice subtle yet impactful updates that elevate the car's allure. The front end showcases a new bumper and an expanded grille, accentuated by a pronounced splitter and sleek, evolutionary LED headlights. An eye-catching new hood and revised Aston Martin badge command attention, leaving no doubt about the model's prestige. Though much remains unchanged aft of the A-pillar, slimmer side mirrors and fresh Aston Martin lettering grace the rear.
Astonishing in both form and function, the DB12 boasts new 21-inch wheels, shedding 17.6 lbs (8 kg) compared to its DB11 counterparts. These lightweight wheels harmonize with specially crafted Michelin Pilot 5s tires, incorporating noise-cancelling polyurethane foam inserts. This ingenious feature ensures a serene cabin experience, diminishing tire noise by an impressive 20%.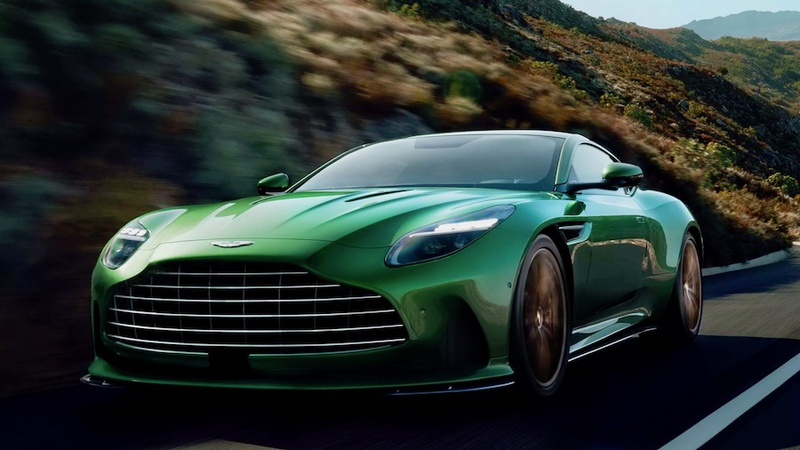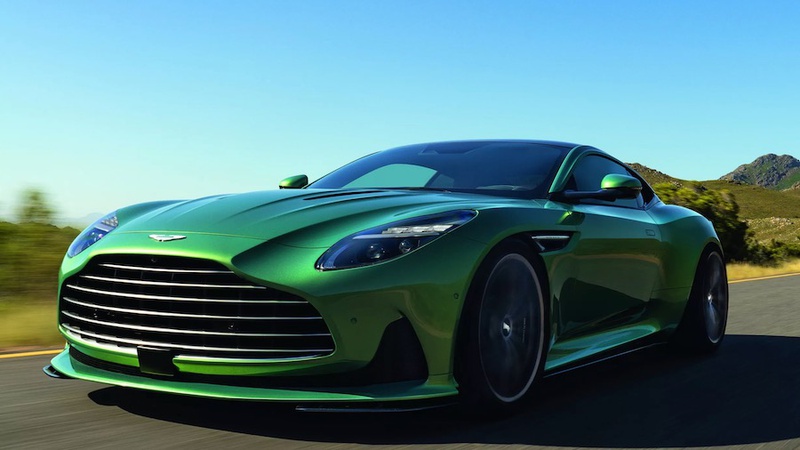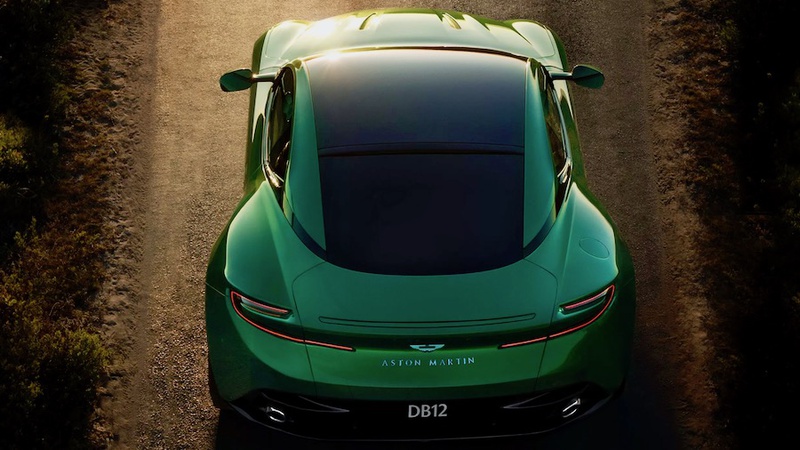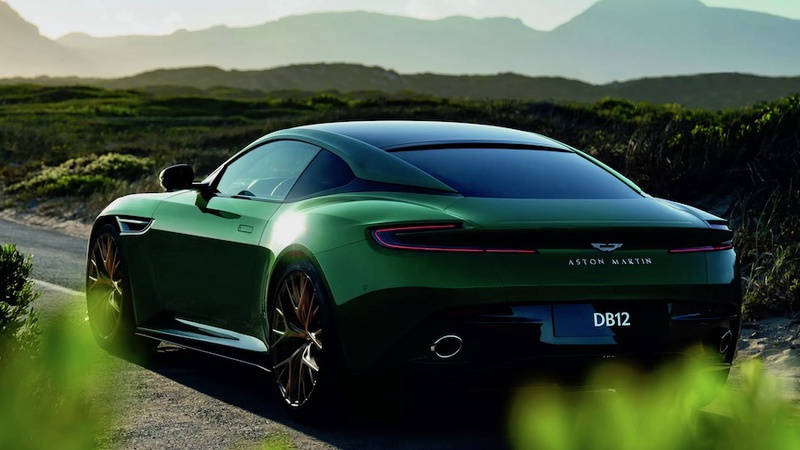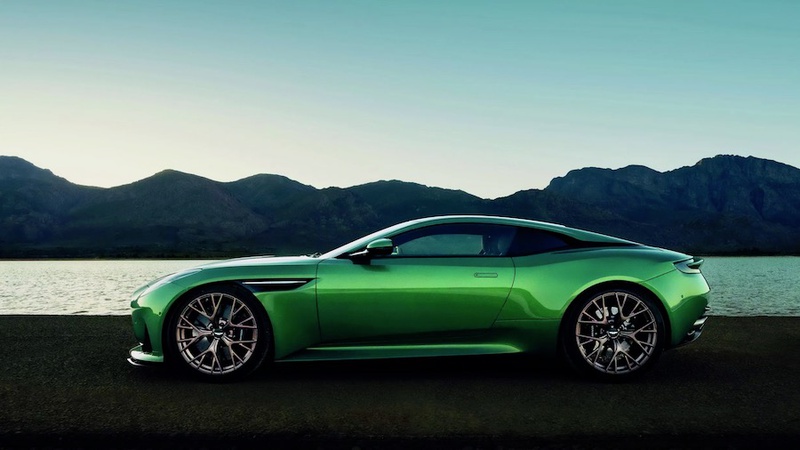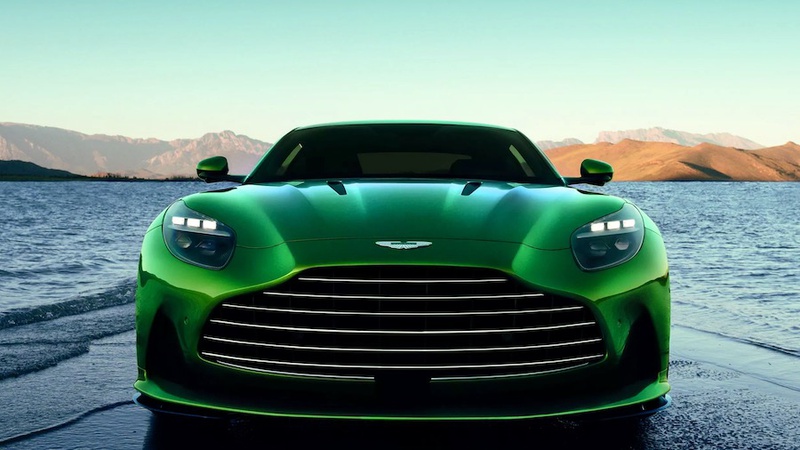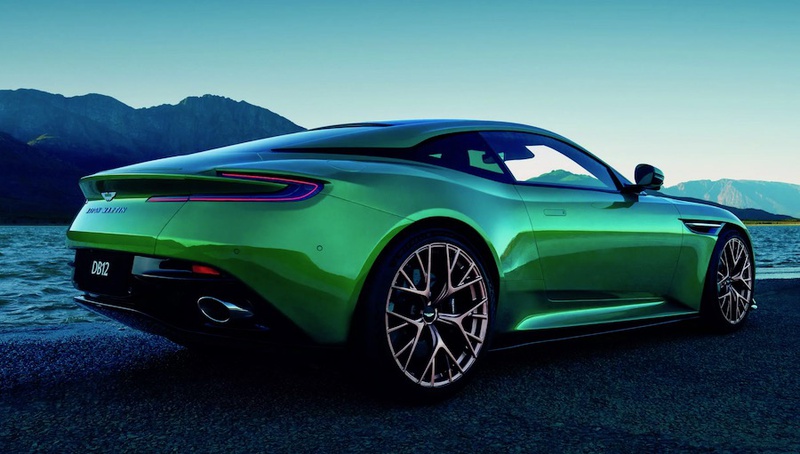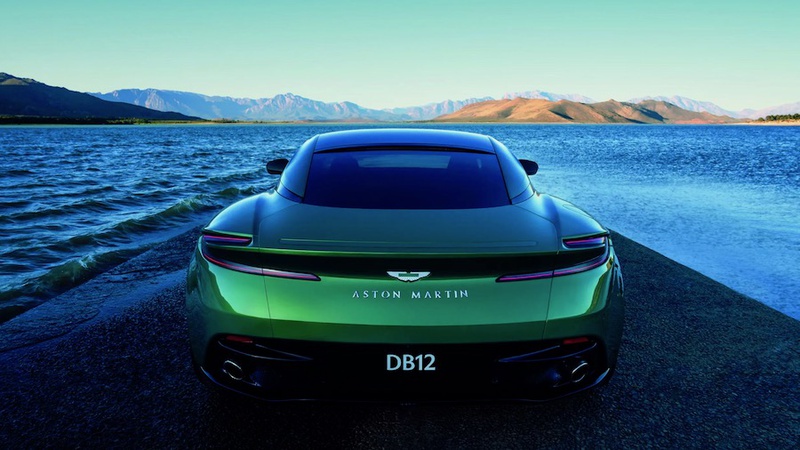 Aston Martin DB12 Eschews V12
The DB12's allure lies not only in its visual appeal but also in its relentless pursuit of automotive excellence. Aston Martin continues to push boundaries, delivering a super tourer that redefines luxury and performance. With the DB12, expect an unrivaled driving experience that combines opulence, power, and cutting-edge engineering.
Embracing Modernity in the Cabin
Step inside the Aston Martin DB12, and you'll be met with a delightful surprise—a cabin that has finally entered the 21st century. While the exterior may evoke a sense of familiarity, the interior takes a bold leap forward, incorporating contemporary elements that elevate the driving experience to new heights.
As you settle into the driver's seat, your hands rest on a brand-new steering wheel, exuding sophistication and ergonomic design. Direct your gaze forward, and you'll be captivated by the modern digital instrument cluster, providing essential information with clarity and precision.
At the heart of the cabin, a stunning 10.25-inch infotainment system takes center stage. This advanced unit not only supports Android Auto and Apple CarPlay but also offers seamless 4G connectivity, voice assistant capabilities, and over-the-air updates. It represents a significant improvement over the previous Mercedes-sourced system, boasting enhanced functionality and an intuitive user interface.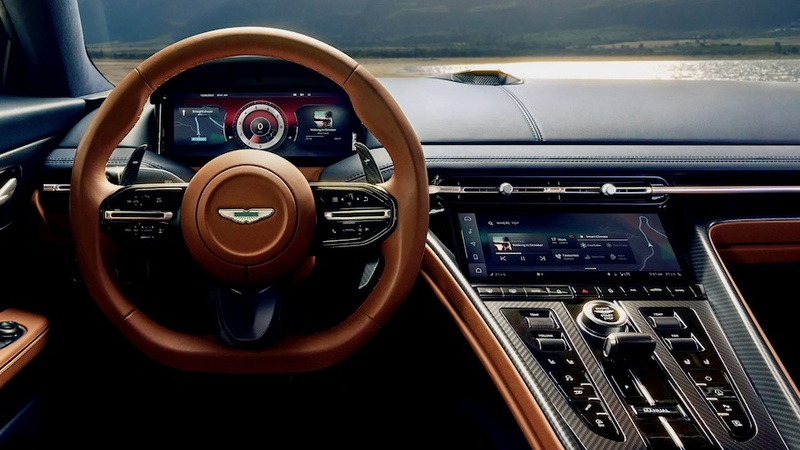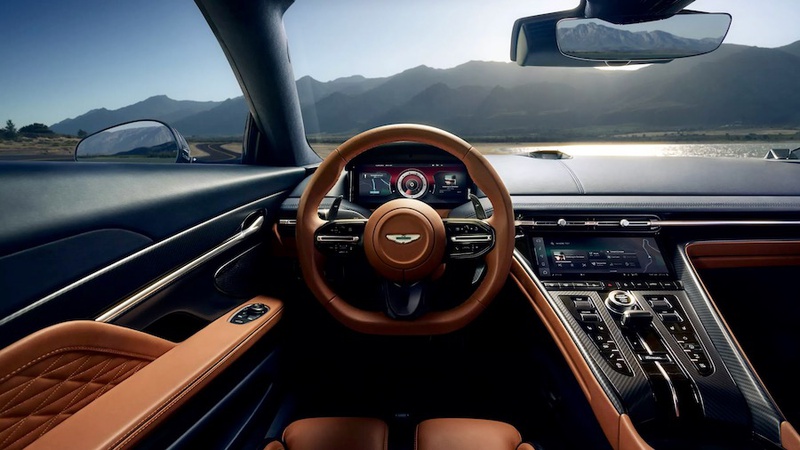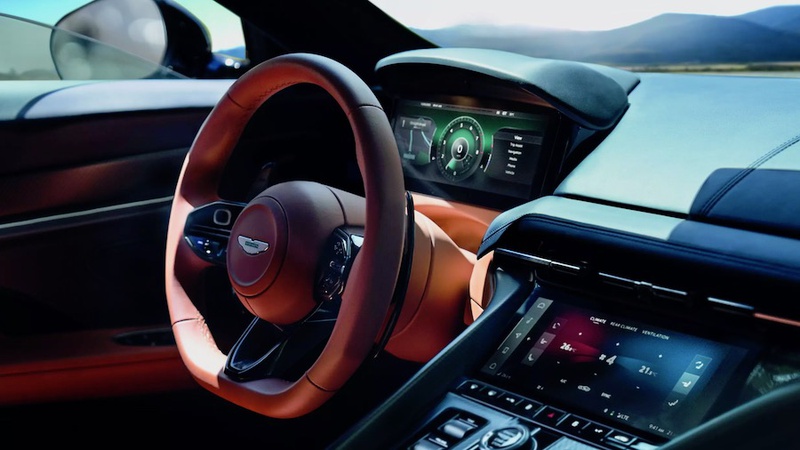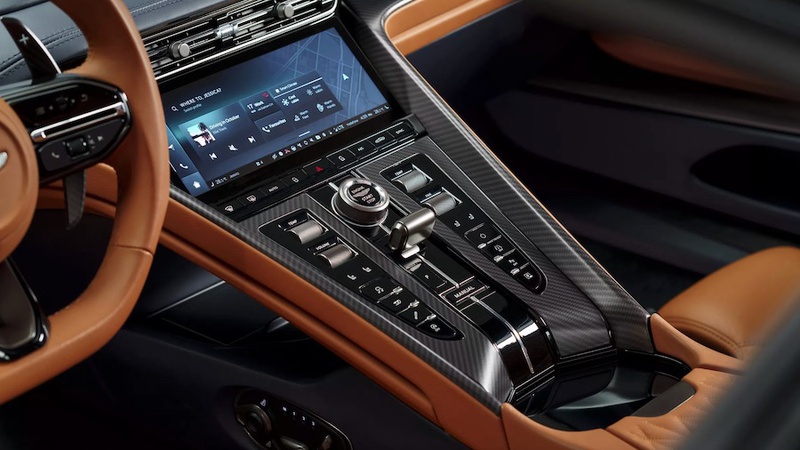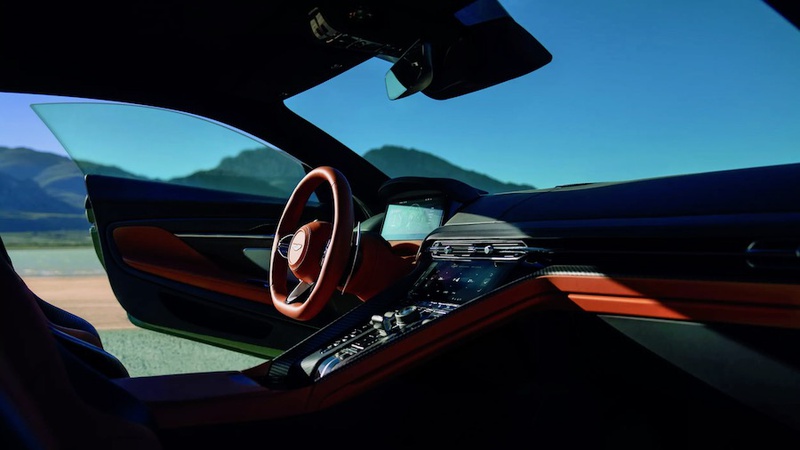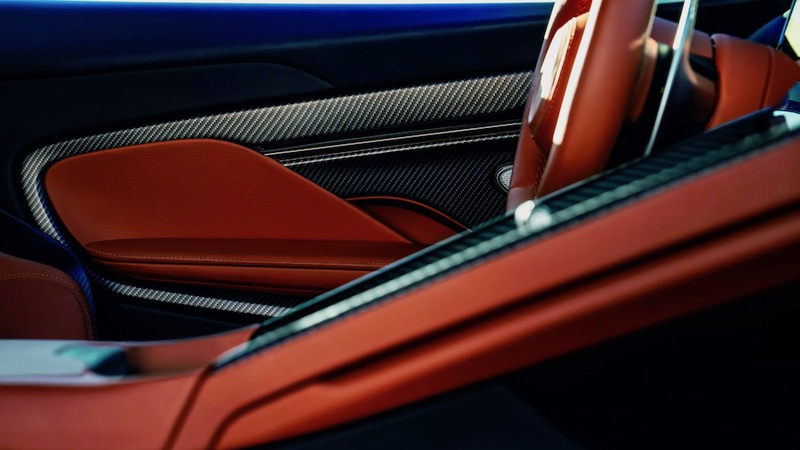 Aston Martin DB12 Eschews V12
Beyond the screens, the DB12 presents a captivating interior design. A floating center console adds a touch of elegance, harmonizing with the new dashboard adorned with slender air vents. The incorporation of higher quality materials is evident throughout, complemented by a minimalist shifter and refined switchgear. Conveniently positioned within reach is a knurled rotary controller, providing effortless access to the car's five distinctive driving modes.
While audio enthusiasts will appreciate the standard 11-speaker audio system, Aston Martin offers an upgrade option to a magnificent 15-speaker Bowers & Wilkins premium audio system. In true bespoke fashion, customers can personalize their DB12 further with optional Sports Plus and Carbon Fibre Performance seats, as well as a selection of aluminum, wood, or carbon fiber trims
Unleashing Thunderous Power and Unparalleled Performance
Prepare to be captivated by the sheer might of the Aston Martin DB12, as it emerges with an awe-inspiring powerhouse under the hood. Equipped with a Mercedes-sourced twin-turbo 4.0-liter V8 engine, this exceptional grand tourer delivers an astonishing 671 horsepower (500 kW / 680 PS) and a formidable 590 lb-ft (800 Nm) of torque.
Compared to its predecessor, the DB11, the DB12 represents a significant leap in performance. The new V8 engine eclipses the DB11's ratings of 528 horsepower (393 kW / 535 PS) and 513 lb-ft (675 Nm) of torque. It even surpasses the previous twin-turbo 5.2-liter V12, which boasted 630 horsepower (470 kW / 639 PS) and 516 lb-ft (700 Nm) of torque. This remarkable surge in power could be the reason why the DB12 is exclusively offered with the V8 engine.
The robust engine is paired with an eight-speed automatic transmission, propelling the DB12 from 0 to 62 mph (0 to 100 km/h) in a mere 3.6 seconds, reaching a top speed of 202 mph (325 km/h). To put these figures into perspective, the DB11 V8 required four seconds to reach 62 mph (100 km/h) and topped out at 192 mph (309 km/h). Similarly, the DB11 V12 accelerated to 62 mph (100 km/h) in 3.7 seconds and achieved a maximum speed of 208 mph (334 km/h).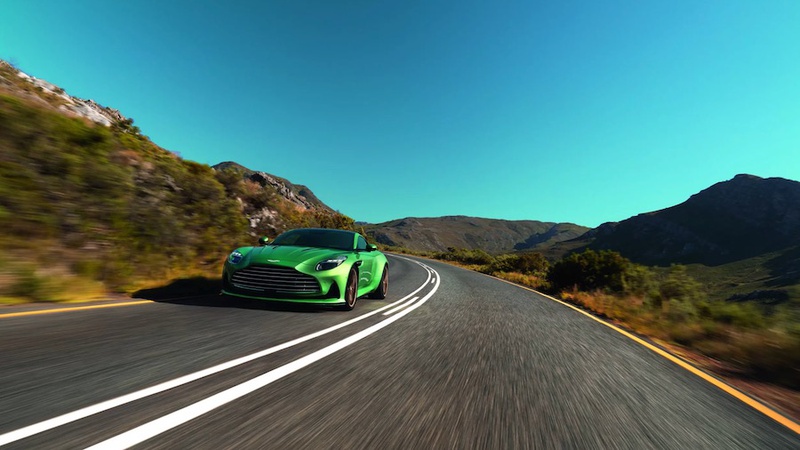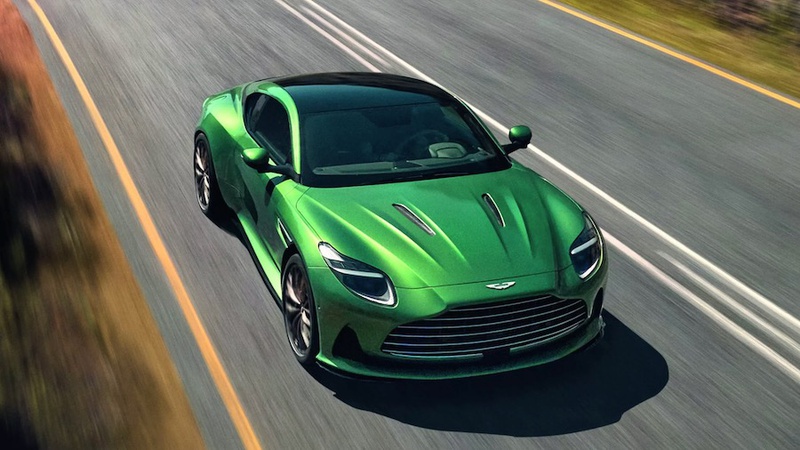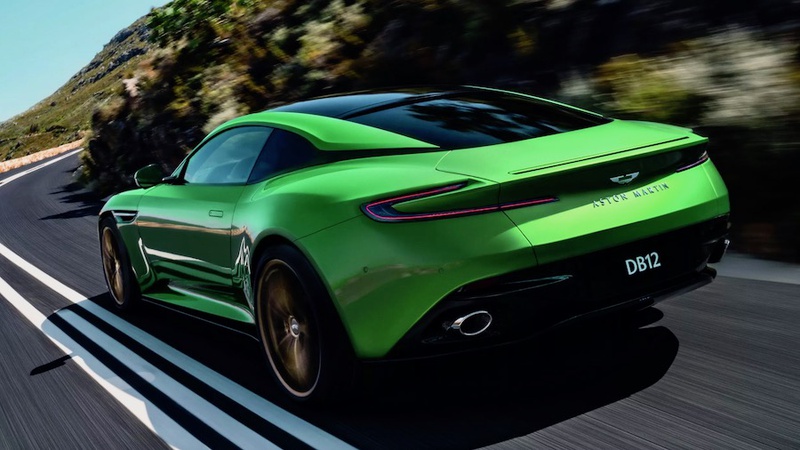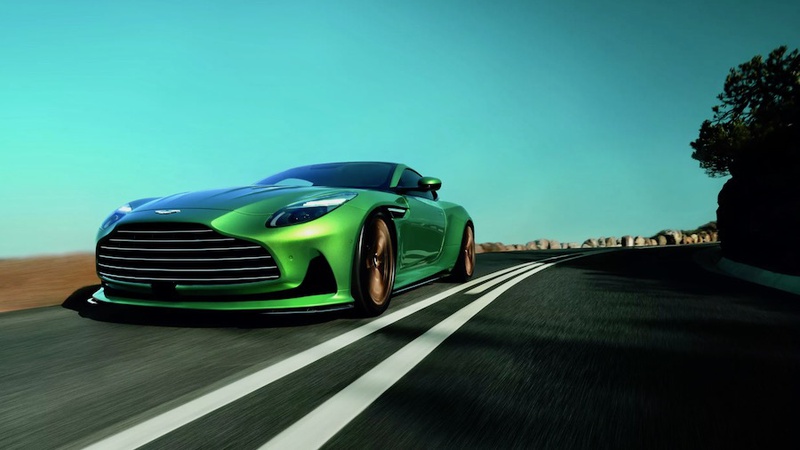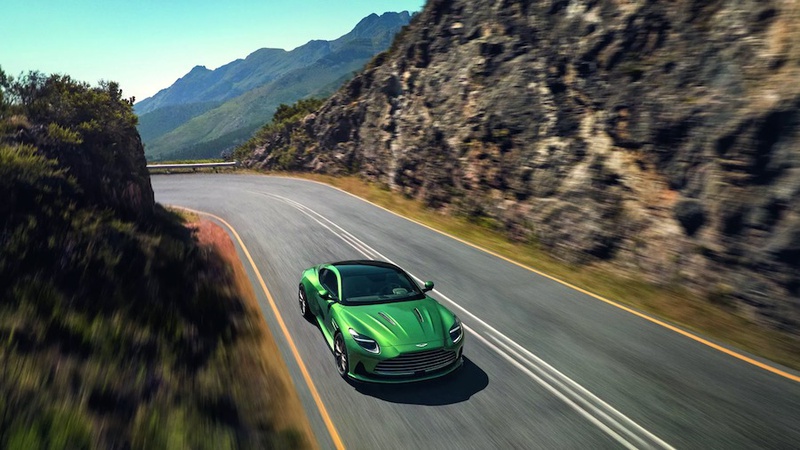 Aston Martin DB12 Eschews V12
Enhancing the DB12's performance, Aston Martin has equipped it with a revamped chassis, boasting a 7% increase in stiffness. Modifications to key components such as the engine cross brace, front and rear undertrays, front crossmember, and rear bulkhead contribute to the enhanced rigidity. The model also benefits from an electronic limited-slip differential, a refined suspension system featuring stiffer anti-roll bars and new adaptive dampers, and an improved electronic stability control system. Additionally, a retuned brake booster and the option of a carbon ceramic braking system further elevate the DB12's track capabilities, shedding 59 lbs (27 kg) of weight and providing superior fade resistance.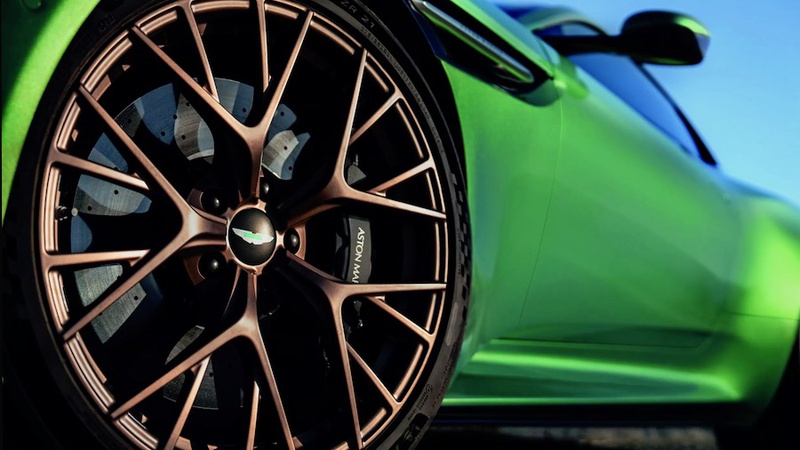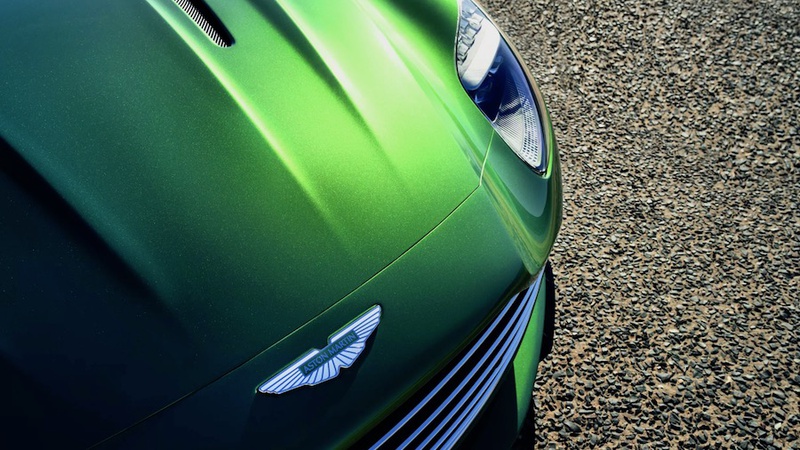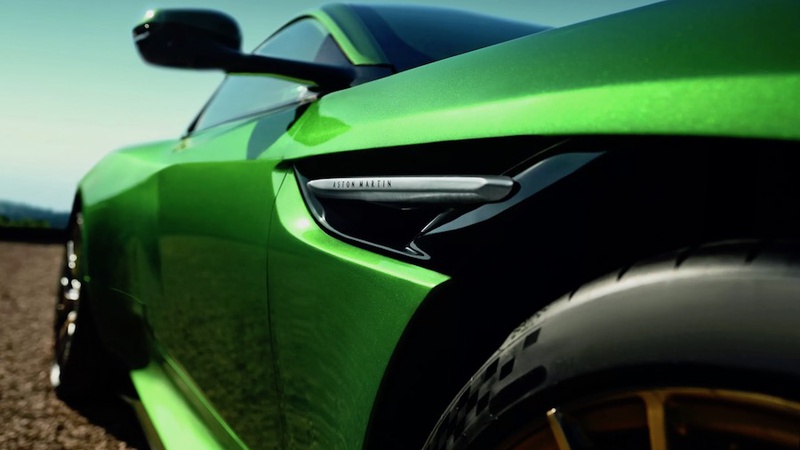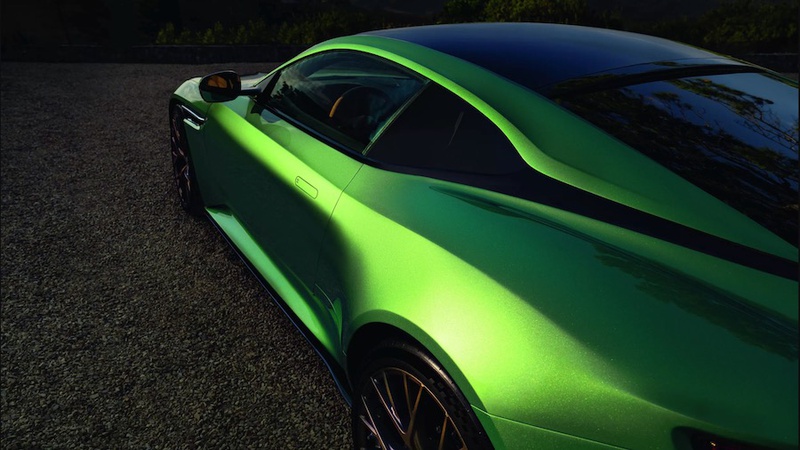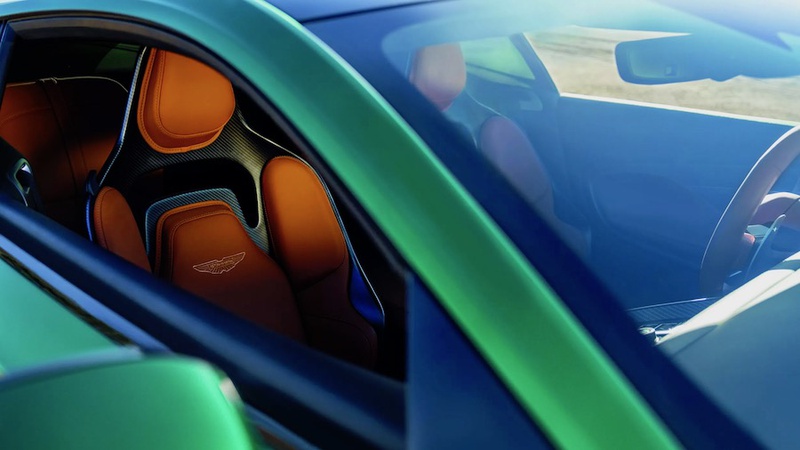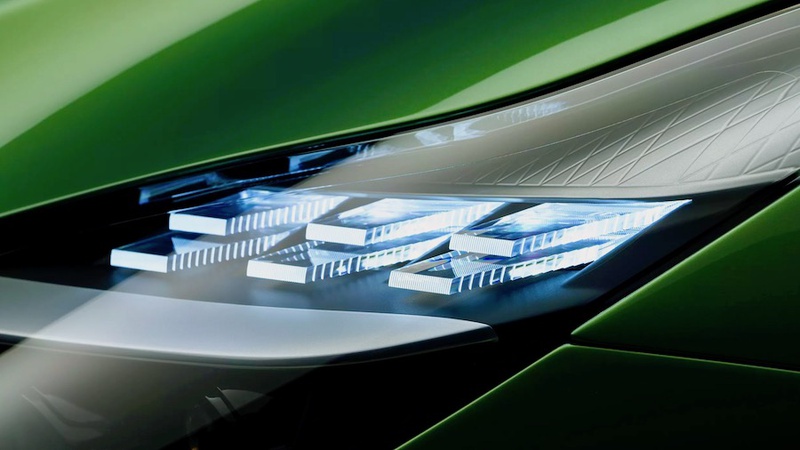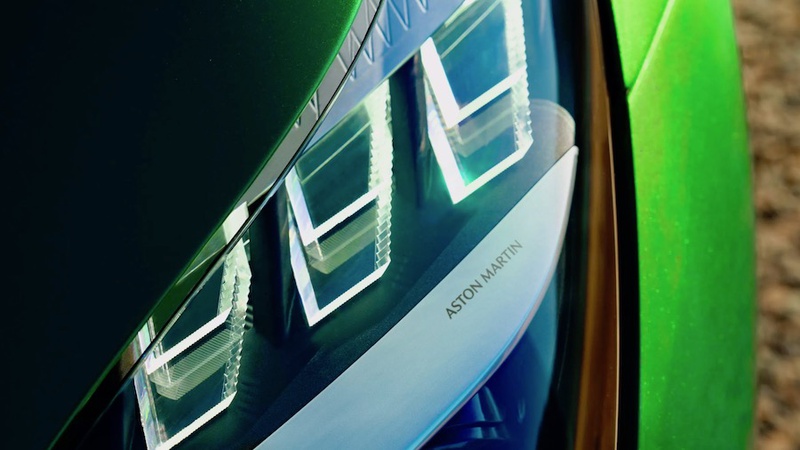 Aston Martin DB12 Eschews V12
Set to make its debut in the third quarter, the Aston Martin DB12 will undoubtedly leave enthusiasts exhilarated with its exceptional performance. And as the journey continues, we can anticipate the arrival of the DB12 Volante, further expanding the realm of automotive excellence.
Source: carscoops