The Nürburgring, renowned for its challenging track and high-speed thrills, has witnessed another historic moment in the world of automotive performance. The Ferrari 296 GTB has smashed through the seven-minute barrier, becoming one of only fifteen cars to accomplish this feat officially. With a blistering lap time of 6 minutes and 58.7 seconds, the Ferrari 296 GTB has etched its name in the annals of automotive excellence.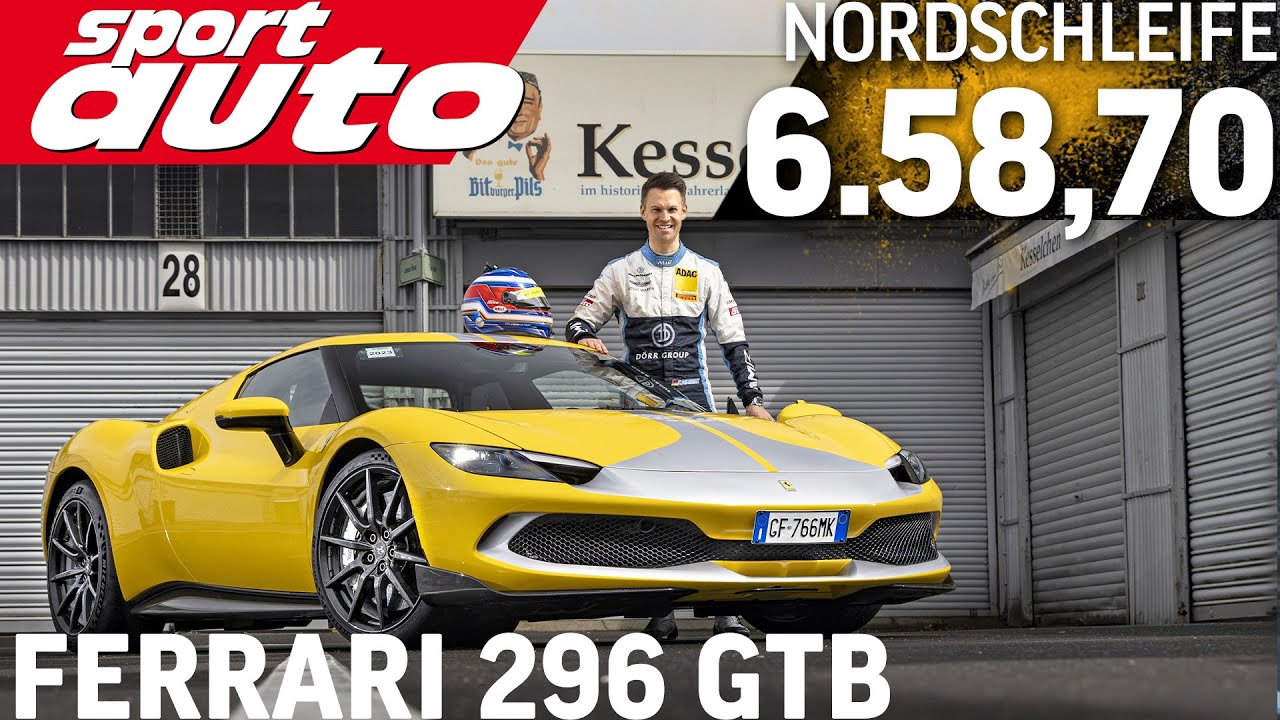 Under the skilled guidance of Sport Auto's Christian Gebhardt, the Ferrari 296 GTB showcased its awe-inspiring capabilities on the legendary Nordschleife circuit. Equipped with the Assetto Fiorano package and Michelin Pilot Sport Cup 2 R tires, this hybrid supercar delivered a jaw-dropping performance that left enthusiasts and competitors in awe.
Gebhardt's expertise on the Nürburgring proved invaluable as he expertly maneuvered the Ferrari 296 GTB, shaving off crucial seconds to achieve an extraordinary lap time. The 6:58.70 achievement outshines his previous effort with the Ferrari 488 Pista, falling short of the elusive sub-seven-minute club by a mere 1.3 seconds.
However, it's worth noting that the 296 GTB still trails behind the Porsche 911 GT2 RS by 0.5 seconds, which Gebhart skillfully piloted in 2018. Conversely, it eclipses the Lamborghini Aventador SuperVeloce LP750-4 by approximately one second, securing its position as the next-fastest car.
Despite sporting two fewer cylinders than its sibling, the SF90, the Ferrari 296 GTB is no slouch in terms of performance. Powered by a turbocharged hybrid V6 engine, it boasts an impressive output of 819 horsepower (611 kW/830 PS). Such tremendous power propels the rear-wheel-drive marvel from 0 to 62 mph (100 km/h) in a mind-boggling 2.9 seconds, with a top speed of 205 mph (330 km/h).
The inclusion of the Assetto Fiorano handling package further enhances the 296 GTB's performance prowess. While it does not add any additional horsepower, this package offers Multimatic dampers, carbon body parts, a composite rear window, and Michelin tires. These modifications result in a weight reduction of 27 lbs (12 kg). Furthermore, the addition of carbon fiber wheels shaves off an extra 15.4 lbs (7 kg), further amplifying the car's agility and handling capabilities.
Source: Carscoops